Parish of Honley with Brockholes
in the Anglican Diocese of Leeds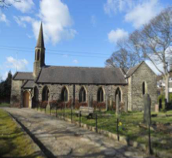 We took part in the Honley Remembers weekend 20/21st July 2019 in memorial of those who gave their lives in the First World War

You are very welcome at any of our services and events.
We have many ongoing activities please see our calendar
We hope you will join us for all or some of these events
May the God of hope fill you with all joy and peace as you trust in Him, so that you may overflow with hope by the power of the Holy Spirit
(Romans 15 v 13)
Christmas at St. Mary's Honley
& St George's Brockholes.
Please come and join with us as we celebrate Christmas
Sunday 15th December
6.00pm A service of Readings & Carols
at St Mary's
Sunday 22rd December
9.30 am Holy Communion at St Mary's
11.00am Holy Communion at St George's
4.00pm Crib Service at St Mary's
Christmas Eve
4.00pm Christmas Cracker at St Mary's
A family friendly alternative Christmas service
6.00pm Carols, Readings & More
at St George's
11.00 pm. Join us as we welcome Christmas morning in at Midnight Communion
At St Mary's
Christmas Day
All are welcome to join us on this
very special day.
10.00 am Family Christmas Celebration Services
at St Mary's and at St George's
Contact details for the four churchwardens, communications and other activities in the churches are on the About Us/Who's Who page of this website
The Parish has adopted the safer church policy of the Diocese of Leeds:-
Our parish safeguarding Policy statement
If you have a safeguarding issue - please see our SAFEGUARDING web page
We are currently appealing for support for our Organ that needs major refurbishment: